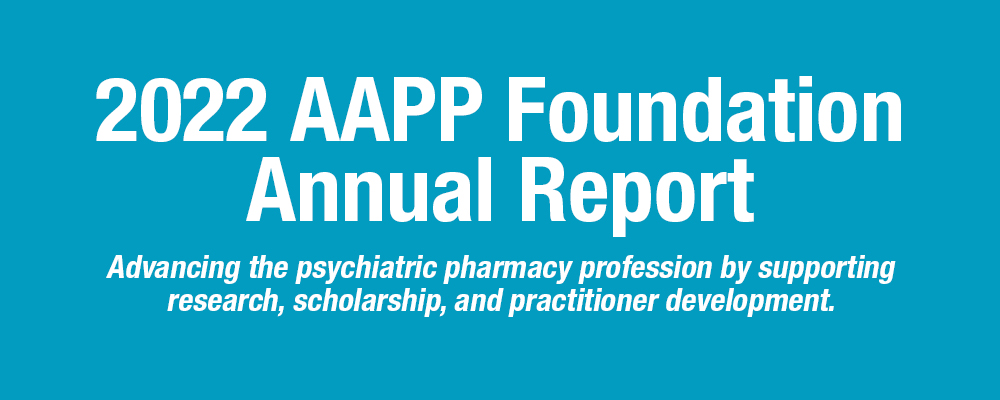 Moving Forward Together
The past few years have been a whirlwind for all of us as we navigated the world during a pandemic, a time of great social change, and a period of upheaval in a fragile health care system. The key word in that sentence is we. We navigated it together—the Foundation, our affiliated parent organization, AAPP, and you, our donors.
In 2022 we continued to support research grants and students interested in psychiatric pharmacy. However, we also deepened our commitment to the future of the mental health workforce by supporting the AAPP Residency Showcase and research informing the critical pieces needed for a robust AAPP Employer Resource Center intended to encourage and support employers in adding psychiatric pharmacists and PGY2 psychiatric residents to their health care systems.
We remain committed to deepening our impact as we continuously strive to meet our vision of "A world where individuals with mental health disorders receive optimal care because psychiatric pharmacists are an essential member of the health care team." We thank you for helping to advance the AAPP Foundation in 2022 and we look forward to continuing to join forces with you in 2023!

Christopher Thomas, PharmD, BCPP
2022-2023 AAPP Foundation President
---
2022 Impact
| | |
| --- | --- |
| 33 | Grants offered |
| 10 | Grant Recipient Posters at CPNP 2022 |
| 3 | Research projects funded |
| 138 | Unique donors |
| $1,247 | Contributed through the duration of the AmazonSmile program |
| | |
---
Making An Impact: On Campus and In the Community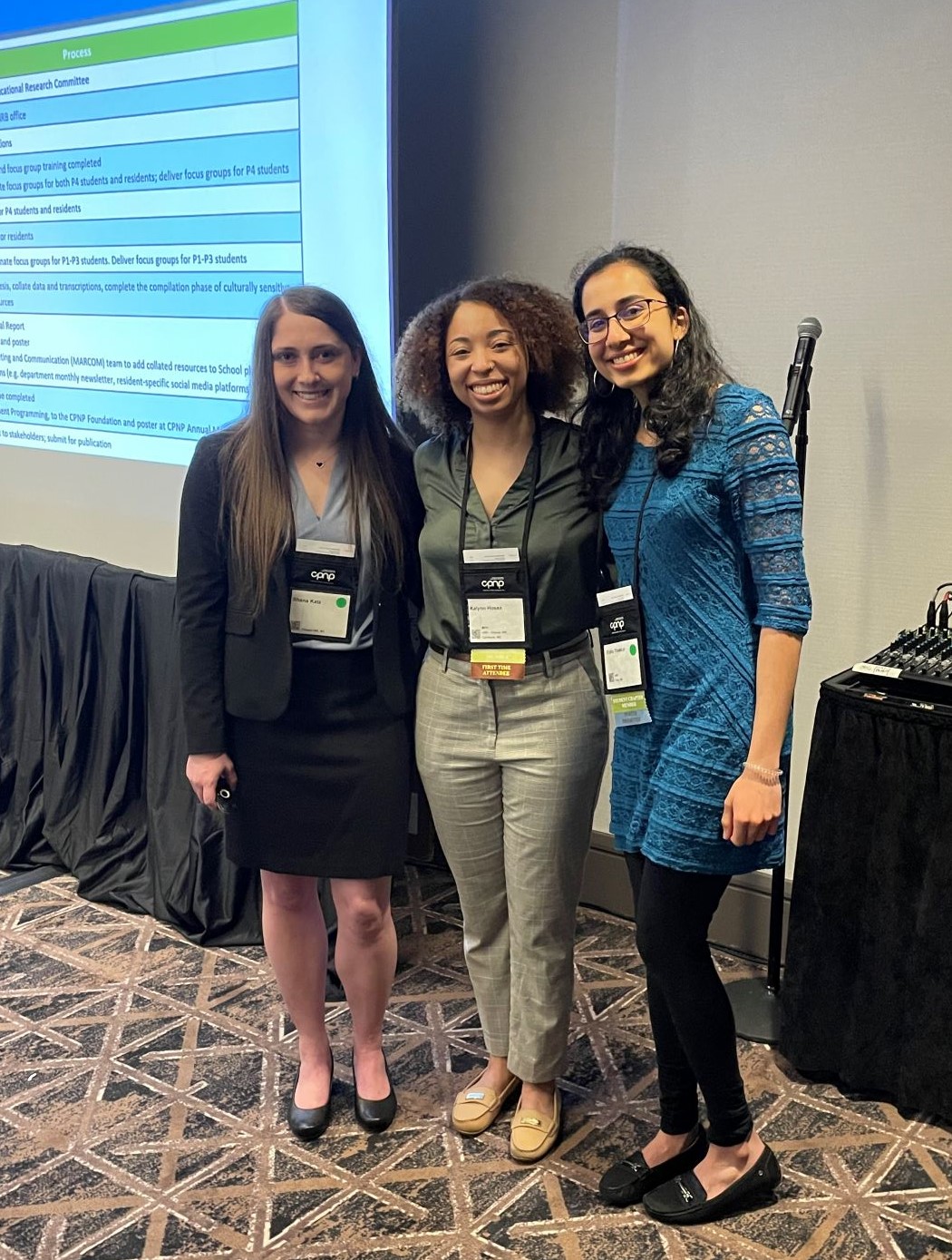 The AAPP Foundation started the Collegiate Chapter Impact Grant program in 2021 to support student activities on their campuses and impact communities. One of three grant recipients in the inaugural grant cycle was awarded to the University of North Carolina (UNC) Eshelman School of Pharmacy.
The chapter was awarded $4000 to complete their project titled "Access to Inclusive and Culturally Sensitive Mental Healthcare in Pharmacy Students and Residents." Student investigators included Esha Thakkar, Shana Katz, Cat Liu, Kalynn Hosea, Katie Marks, and Sarah Hall. Dr. Ina Liu and Dr. Suzanne Harris served as the faculty advisors for the project.
The student researchers identified a gap in mental health access and treatment within our Black, Indigenous, People of Color (BIPOC) population as one of their main reasons for completing their project. Additionally, there was a lack of evidence to help guide institutions of higher learning on how to address the culturally sensitive mental health needs for BIPOC health professional students. The project included the convening of multiple focus groups for BIPOC pharmacy students and residents to promote discussions in four key areas: (1) perceived barriers to access mental healthcare, (2) whether social identities influence the decision to seek mental health care, (3) what is working well within the school/residency program to support mental wellness for BIPOC pharmacy trainees, and (4) recommended areas of improvement to support mental wellness among BIPOC pharmacy trainees.
Based on the feedback received from the focus groups, the collegiate chapter then collected and promoted culturally sensitive mental health resources from BIPOC pharmacy trainees. To date, the impact of this project has led to the addition of culturally sensitive resources to the School's Wellbeing website which includes a list of culturally affirming therapists. This project also led to the development of targeted recommendations to be added to the School's Diversity, Equity, and Inclusive (DEI) initiatives to help support mental wellness among BIPOC trainees.
The AAPP Foundation was proud to support this project and to support AAPP Collegiate Chapters across the country through the Student Chapter Impact Grant program!
Financial Forward Mission
Strategic decisions and staff support from AAPP allowed us to support our core mission areas: research, scholarship, and practitioner development.
Setting the Example as Donors and Legacy Partners
Foundation donors and Legacy Partners, Gary Levin, PharmD, BCPP, FCCP, and Toya Bowles, PharmD, MS, BCPP, have set an amazing example of leadership and generosity. We caught up with Gary and Toya to learn more about their reasons for supporting the AAPP Foundation.
How do you envision the AAPP Foundation making a difference in your lives as psychiatric pharmacists and/or the lives of patients and caregivers?
"The Foundation is supporting student pharmacists to attend AAPP meetings which will ultimately build our base of members and much-needed psychiatric pharmacists. AAPPF also supports grants to investigators. The funds that we have bequeathed to the Foundation have been specifically designated to students and post-PharmD trainees for research."
2. What prompted you to become Legacy Partners, and what motivates you to be a consistent supporter of the Foundation?
"Gary was an AAPP Founding Member and its first elected President and Toya became a member in our second or third year of existence, so both are long-standing consistent members. Gary has been involved in many committees at different times including the AAPP Past President Advisory Board. Toya has been involved in several AAPP committees and recently joined the 2023 Board of Directors for the Foundation. In our opinion, AAPP is the only home for psychiatric pharmacists and those students and trainees striving to become psychiatric pharmacists."
3. Is there anything else you want to share?
"We both feel it is important for all members to support the Foundation financially. We understand that everyone has families and other organizations in their wills, but just giving 1% or more to the AAPP Foundation can go a long way over many years. It is very clear that AAPP and the AAPP Foundation will be here as long as there are psychiatric pharmacists and a need to improve the quality of life of people with mental illness. We appreciate the opportunity to share our views regarding the AAPP Foundation. Please do not hesitate to reach out to either of us if you have questions about where to begin."
Will you join Dr. Bowles and Dr. Levin in supporting research, scholarship, and practitioner development?

Through kind gifts like yours, the AAPP Foundation can continue to advance psychiatric pharmacy, and ultimately, the care of those living with mental illness.

Donations can be made online at aappf.org/pledge or by mail to AAPP Foundation, 8055 O Street, Ste. S113, Lincoln, NE 68510
Recognizing Our 2022 Donors
The following individuals and organizations made gifts to support the AAPP Foundation's mission between January 1, 2022, and December 31, 2022:
| | | |
| --- | --- | --- |
| Jennifer Alastanos | Kristen Gardner | Susie Park |
| Azita Alipour | James Gasper | Chris Paxos |
| Elayne Ansara | Michelle Geier | Charles Pearlmutter |
| Zach Atkinson | Wes Geminn | Meagan Petersen |
| LaGenia Bailey | Leigh Gillies | Mackenzie Pierce |
| Matt Baker | Jeff Gold | Sarah Popish |
| Jennifer Bean | Jessica Goren | Paul Price |
| Lindsey Binns | Sarah Grady | Michelle Richard |
| Danielle Bishop | Chris Greer | Korin Richardson |
| Jeff Bishop | Adam Gummersheimer | Nathaniel Rickles |
| Danielle Boggie | Cindy Gutierrez | Linda Rowe-Varone |
| Mary Borovicka | Robert Haight | Paul Springborn |
| Julia Boyle | Catherine Hall | Robert Rutschman |
| Kevin Bozymski | Karen Hansen | Steve Saklad |
| Nancy Brahm | Joanne Hawley | Megan Sarashinsky |
| Steve Burghart | Jordan Haygood | Jose Scarpa |
| Bradley Burk Burk | Robin Hieber | Brenda Schimenti |
| Erin Byrne | Joshua Holland | Steve Shoyer |
| Charlie Caley | Naomi House | Rick Silvia |
| Austin Campbell | Johnson & Johnson | Tawny Smith |
| Alex Cardoni | Christie Kahlon | Roger Sommi |
| Marshall Cates | Judy Kando | Shelly Spollen |
| Nathaniel Chard | Danielle Karlin | Kathryn Sticca |
| Carla Cobb | Cindy Kirkwood | Chris Stock |
| Larry Cohen | Julie Kissack | Steve Stoner |
| Michelle Colvard | Erin Knox | Craig Straley |
| Vickie Corbett-Ripley | Susan Kurilla | Sheryl Thedford |
| Lynn Crismon | Kelly Lee | Chris Thomas |
| Ericka Crouse | Jonathan Leung | Susan Thompson |
| Sharon Crow | Gary Levin | Erika Tillery |
| Jeremy Daniel | Jonathan Lister | Chris Torhorst |
| Amie Jo Digatono | Linda Logan | Jayme Trott |
| Julie Dopheide | Rex Lott | Amy VandenBerg |
| Peter Dorson | Ray Love | Julia Vertrees |
| Amber Douglass | Chelsea Luddy | Robin Wackernah |
| Warren Drezen | Carlie Martin | Ken Walters |
| Rosemary Dulac | Monica Mathys | Mark Watanabe |
| Traci Dutton | Michael McGuire | Heidi Wehring |
| Nancy Edwards | Jerry McKee | Barbara Wells |
| Kimberly Erickson | Laurence McMillan | Pat Wilkinson |
| Lee Evans | Sarah Melton | Andy Williams |
| Martie Fankhauser | Lisa Mican | Shelly Williams |
| Patrick Finley | Lindsey Miller | Jacquelyn Wilson |
| Rachel Firebaugh | Kaitlyn Morgan | Jim Wilson |
| Joni Fowler | Sandy Mullen | Kara Wong |
| Darren Freeman-Coppadge | Terri O'Sullivan | Natasa Zivak |
| Kevin Furmaga | Carol Ott | |
2022 Board of Directors
We thank the 2022 AAPP Foundation Board of Directors for their service.
Christopher Thomas, PharmD, BCPS, BCPP
President
Clinical Pharmacist in Psychiatry
Chillicothe VAMC
Chillicothe, OH
Michael McGuire, PharmD, BCPP
Past President
Associate Professor of Pharmacy Practice
Belmont University
Nashville, TN

Brenda K. Schimenti
Secretary
AAPP Foundation
055 O Street, Ste. S113
Lincoln, NE 68510
(402) 476-1677
bschimenti@cpnp.org

Steven C. Stoner, PharmD, BCPP
Treasurer
Associate Dean for Student Affairs
Clinical Professor
University of Missouri at Kansas City School of Pharmacy
Kansas City, MO
Marshall Cates, PharmD, BCPP, FASHP, FCCP
AAPP Liaison, January-June 2022
Professor of Pharmacy Practice
Samford University McWhorter School of Pharmacy
Birmingham, AL
Robert Haight, PharmD, BCPP
AAPP Liaison, July-December 2022
Clinical Pharmacist | Forensic Services
Saint Peter Regional Treatment Center (SPRTC)
Minnesota Department of Human Services
Saint Peter, MN
Azita Alipour, PharmD, BCPP, BCGP
Assistant Professor
Marshall B. Ketchum University College of Pharmacy
Fullerton, CA
Mary C. Borovicka, PharmD, BCPP
Clinical Pharmacist-Dept of Psychiatry
MetroHealth Medical Center
Cleveland, OH
Cynthia Kirkwood, PharmD, BCPP
Professor and Executive Associate Dean for Academic Affairs
Virginia Commonwealth University
Richmond, VA

Monica Mathys, PharmD, BCPP
Associate Professor
Texas Tech Health Sciences
Dallas, TX

Susie H. Park, PharmD, BCPP
Clinical Pharmacist Behavioral Health
Riverside University Health System
Riverside, CA

Chris Paxos, PharmD, BCPP, BCPS, BCGP
Associate Professor of Pharmacy Practice
Northeast Ohio Medical University
Rootstown, OH

Paul L. Price, PharmD, BCPP
Senior Associate Dean; Associate Professor of Pharmacy Practice; Clinical Pharmacy Specialist Psychiatry
Creighton University School of Pharmacy and Health Professions
Omaha, NE